Battle at the Boat 119 Weights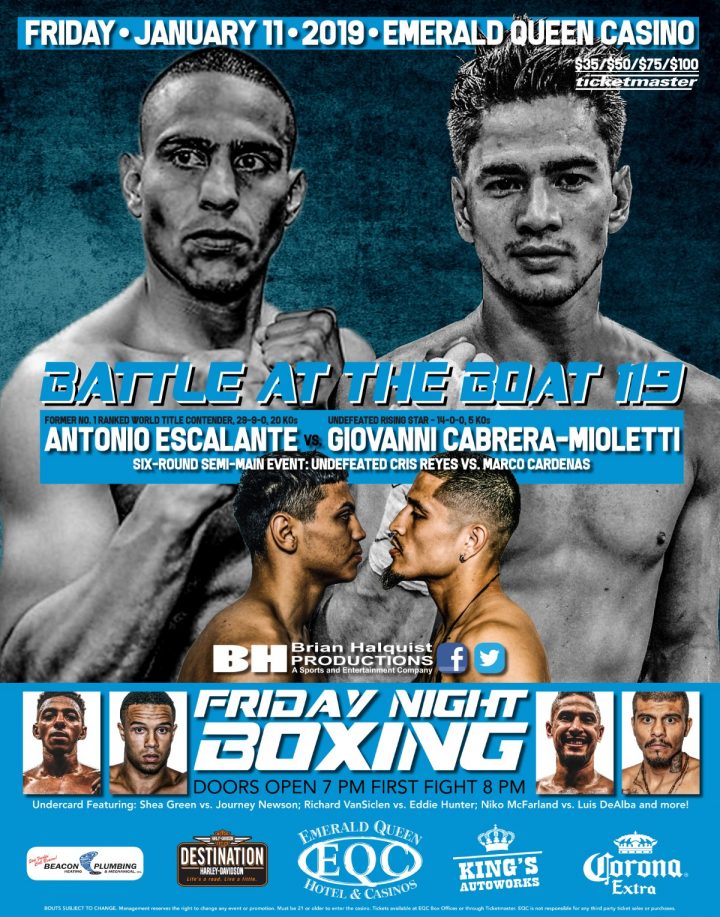 Undefeated Giovanni Cabrera Mioletti and former world title contender Antonio Escalante both made weight for Friday's Battle at the Boat 119 super featherweight main event.
Cabrera Mioletti, who brings an unblemished 14-0-0 record with 5 KOs into the 10-round bout, came in at a trim and ready 129.2 pounds. Veteran Escalante (29-9-0, 20 KOs) tipped the scale at 128.8.
The Cabrera Miloletti-Escalante main event will be one of six bouts on the Battle at the Boat 119 card.
Tickets are available through the EQC box office and all Ticketmaster Outlets. Preliminary bouts will start at 8 p.m. Doors open at 7 p.m.
Battle at the Boat 119 will also include a featured bout in the super lightweight division between undefeated Shea Green (139.9 pounds) and the debuting Journey Newson (138.4).
Also looking to stay undefeated will be lightweight Richard VanSiclen (5-0), who weighed in at 174.4 pounds for his contest with veteran Eddie Hunter (174.7).
Battle at the Boat 119 Weights
Friday, Jan. 11, 2019
10 Round Main Event – Super Featherweight
130 pounds: Giovanni Cabrera Mioletti (129.2) vs. Antonio Escalante (128.8)
4 Round Featured Bout
140 pounds: Shae Green (139.9) vs. Journey Newson (138.4)
4 Round Undercard Bouts
175 pounds: Richard VanSiclen (174.4) vs. Eddie Hunter (174.7)
141 pounds: Niko McFarland (140.4) vs. Luis DeAlba (140.4)
135 pounds: William Parra-Smith (139.5) vs. Derick Bartlemay (140)
170 pounds: Quinten Wyland (167.2) vs. Luis Iniguez (169.1)
Battle at the Boat 119 is brought to you by Brian Halquist Productions and CageSport MMA. For more information, please visit the CageSport MMA Facebook page and www.halquistproductions.com
ABOUT BRIAN HALQUIST
Brian Halquist Productions is the Northwest premiere fight promotion company creator of the famed "Battle at the Boat" boxing series promoting more than 20 years and over 150 fights at the Emerald Queen Casino. BHP has also built the largest professional MMA series on the USA's west coast with "Cage Sport MMA" nearing more than 50 fights. Brian Halquist Productions has promoted events for ESPN, ShowTime and HBO and featured on Showtime's historic boxing event in St Lucia, West Indies. Brian Halquist Productions has been promoting fights and concerts for over 30 years in the Pacific Northwest.
Read more articles about: