Jaime Munguia wants to unify the 154-pound division before moving up to middleweight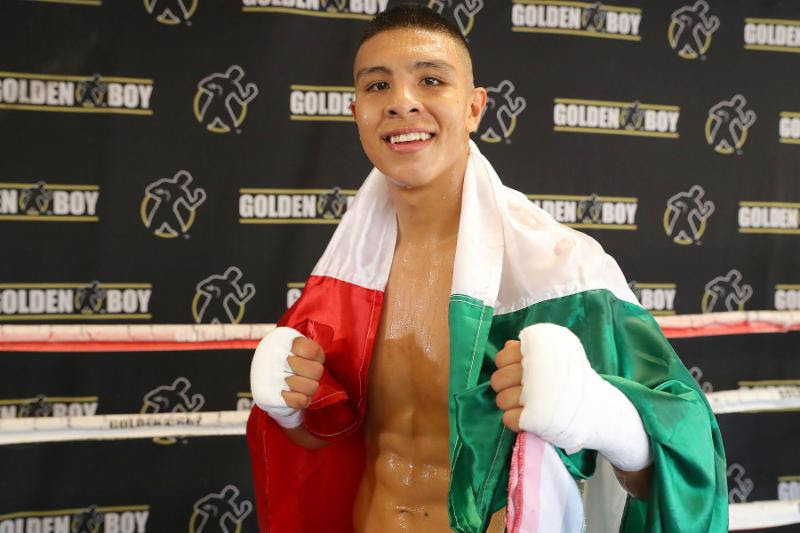 Rising star Jaime Munguia 31-0 (26) has spoken of his plans to campaign as a middleweight after unifying the junior middleweight titles later this year.
The WBO 154-pound champion outlined his career goals as he put the finishing touches on his preparation for his third title defence against Japan's Takeshi Inoue 13-0-1 (7) at the Toyota Center in Houston, Texas this Saturday night.
"Takeshi Inoue is a strong fighter. He comes forward a very brave fighter. He doesn't mind taking a punch in order to land one," Munguia told Fightnews.
"We have to be careful with that and come very prepared. We have to be careful with his right hand as well. The guy lets his hands go. We're going to come very well prepared on January 26."
The undefeated Mexican banger has kept a busy schedule since dethroning 2008 US Olympian Sadam Ali 27-2 (14) as a late replacement for Liam Smith in May last year, defending the title twice to bring his number of bouts for 2018 to five.
The plan from his co-promoters Golden Boy Promotions and Zanfer Promotions is to keep the 22-year-old from Tijuana fighting regularly in 2019 as they continue to build his brand and develop his profile. Ideally, that will involve four fights including a mandatory title defence against Australian-based Irishman Dennis 'Hurricane' Hogan 28-1-1 (7) before chasing unification fights against WBA and IBF champion Jarrett Hurd 23-0 (16) and recently crowned WBC champion Tony Harrison 28-2 (21) who is coming off a surprise win over Jermell Charlo 31-1 (15).
"After this fight, it looks like I will have a WBO mandatory bout against Dennis Hogan. But I would still like to unify the titles at 154-pounds with the other champions," Munguia said.
"Hurd is a very big 154-pounder. I think he's bigger than me. If a fight with him is presented to me, why not? We can unify the titles or meet at 160-pounds.
"Tony Harrison is a good fighter. He's tough and has good skills. If he is put in front of us, or anyone for that matter, we will have to work."
In the marquee middleweight division just six-pounds north lurks some of the biggest names in the sport, including Saul 'Canelo' Alvarez, Gennady 'Triple G' Golovkin, Daniel Jacobs, Jermall Charlo and Billy Joe Saunders.
"The plan is to move up to 160 pounds in about a year. I don't know what to say about the political situation because we are on different platforms," Munguia said.
First up though, Munguia must get past Inoue.
"The fans will see a great fight and I assure you that the title stays in Mexico," Munguia said. "I plan on giving you all a great fight and keeping my titles."
Read more articles about:
Billy Joe Saunders
,
Canelo Alvarez
,
Daniel Jacobs
,
dennis hogan
,
Gennady Golovkin
,
Jaime Munguia
,
jarrett hurd
,
Jermall Charlo
,
Jermell Charlo
,
Sadam Ali
,
Takeshi Inoue
,
tony harrison