Ringnews24 Welsh Boxing Awards for 2018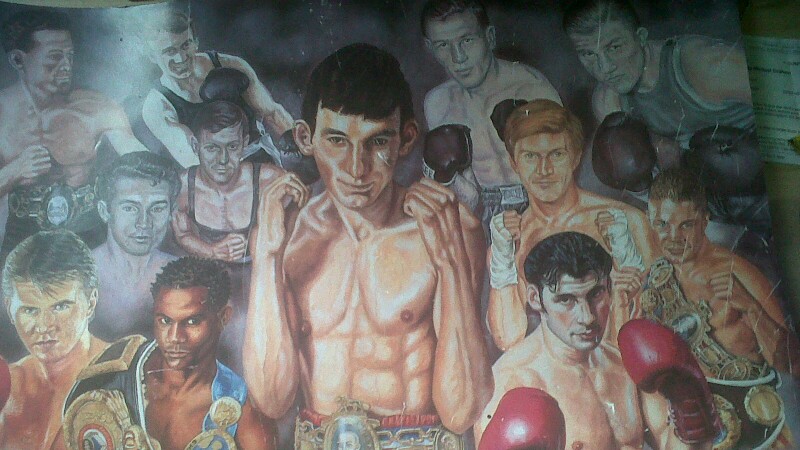 2018 in Wales was busy and action-packed. Welsh boxers competed on the national and international stage.
The year produced surprises, knockouts and hard-fought contests. The following Ringnews24 Welsh Boxing Awards were decided via a select panel of twenty voters.
Boxer of the Year
Liam Williams
'The Machine' fought three times in 2018, winning all three bouts by stoppage. He became a two-weight British champion when he superbly beat Mark Heffron. Training out of the Ingle Gym, in Sheffield, Liam (19-2-1, 14 KOs), looks like a fighter entering his prime years.
Honourable mention: Jay Harris, Gavin Gwynne, Joe Cordina, Jamie Weetch, Lee Selby, Craig Evans
Fight of the Year
Tony Dixon vs Kieran Gething
The Welsh welterweight title fight was a monumental battle between two men hungry to emerge victoriously. On 27th October, at the Newport Centre, Tony Dixon got the close decision in a battle that saw both men give it their all. The win meant Tony was the Welsh champion at 147lbs and 154lbs.
Honourable mention: Gavin Gwynne vs Myron Mills, Liam Williams vs Mark Heffron, Chris Jenkins vs Akeem Ennis-Brown
Prospect of the Year
Kody Davies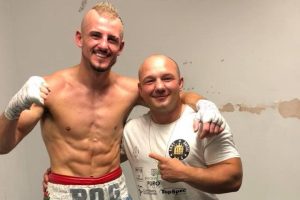 Kody Davies is now undefeated in eight contests, six of those wins came in 2018. He registered good wins over Eric Mokonzo and Anthony Fox. Kody travelled and fought on a big card in Canada, defeating Jerhed Fenderson.
The 24-year-old prospect is trained by Gavin Rees and has impressed all who have seen him. Real high hopes, for his career, over the next few years.
Honourable mention: Jacob Robinson, Gavin Gwynne, Alex Hughes, Sean McGoldrick, Lance Cooksey Jr, Jake Anthony, Maredudd Thomas, Nathan Thorley
Debutant of the Year
Rhys Edwards
The 18-year-old amateur star turned professional under the watchful guidance of trainer Gary Lockett. Late in 2018, he made his debut at the historic York Hall. He boxed brilliantly to gain his first win. A few weeks later, he followed that up with a stoppage win at the same venue. Both times, taking an impressive legion of Rhondda support to the UK capital. Exciting times lie ahead for the youngster.
Honourable mention: Sion Yaxley, Jake Tinklin, Robbie Vernon, David White Jr, Angelo Dragone, Brad Price, Jacob Lovell
Female Boxer of the Year
Ashley Brace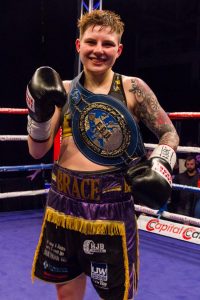 In 2018, Ashley won the vacant EBU European Female Super Flyweight title at the Ice Arena Wales, Cardiff.
Trained by Tony Borg, she fought brilliantly to outpoint Romanian Xenia Jorneac.
The Ebbw Vale boxer is closing in on a World title shot.
Performance/Win of the Year
Liam Williams vs Mark Heffron
On December 22nd at Manchester Arena, Liam Williams put on a master class to lift the British Middleweight title. Liam boxed superbly before stopping then-unbeaten Mark Heffron in the tenth round. The fight was part of a big PPV event on BT Sports and the Welshman impressed all with his performance.
Honourable mention: Gavin Gwynne vs Myron Mills, Craig Evans vs Boy Jones Junior, Joe Cordina vs Sean Dodd, Tony Dixon vs Kieran Gething, Jay Harris vs Ross Murray
International fight of the Year
Jamie Weetch vs Dennis Hogan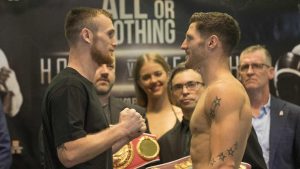 Jamie had entered the IBF rankings and into a World title eliminator. He was matched with Aussie based Irishman Denis Hogan. The compelling contest at the Convention & Exhibition Centre, Brisbane went the full twelve rounds.
A big right from Cwmcarn's Weetch sent his foe flying to the ropes, in the third, and Weetch was often the aggressor. Hogan used his experience to counterpunch and had a big round in the eighth. Jamie showed power and chin but Hogan had the greater share of rounds and took the decision.
Honourable mention: Ashley Brace vs Xenia Jorneac, Joe Cordina vs Hakim Ben Ali, Craig Evans vs Roman Andreev, Kody Davies vs Jerhed Fenderson, Nathan Thorley vs Emmanuel Mousinga, Kieran Gething vs Jorge Moreno, Craig Kennedy vs Nikolajs Grisunins, Morgan Jones vs Mose Auimatagi Jnr
Best foreign fighter to box in Wales (Non-British/Irish)
Joseph Parker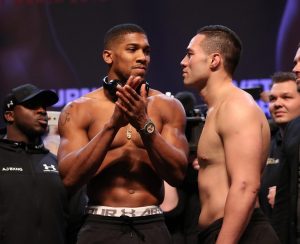 The then-undefeated Kiwi took part in a Heavyweight unification bout, on 31st March, against rival Anthony Joshua. Parker lost a twelve round decision but became the first man to take Joshua twelve rounds. A sell-out crowd packed the Principality Stadium, Cardiff to witness two of the best Heavyweights in the World collide.
Honourable mention: Viviane Obenauf, Alexander Povetkin, Daniyar Yeleussinov, Anthony Sims Jr, Xenia Jorneac
Comeback of the Year
Alex Hughes
An eye injury had halted the career of the Maerdy boxer. Trained by Gary Lockett, he returned at the end of 2018 and registered two first-round KO's. The undefeated Hughes, 25, is one of Wales' brightest talent and will soon be contesting titles.
Honourable mention: Andrew Selby, Craig Evans, Liam Williams, Craig Woodruff
Boxing Trainer of the Year
Gary Lockett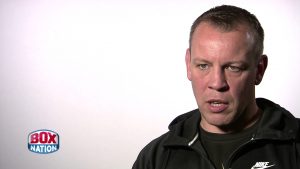 Over the years, Gary has trained some very experienced boxers like Gavin Rees and Enzo Maccarinelli in big fights. Now he has a bustling stable of upcoming fighters like Nathan Thorley, Alex Hughes, Maredudd Thomas, Rhys Edwards and Jacob Lovell.
Former World title challenger Gary (30-2, 21 KOs), had an impressive boxing career and has successfully made the transition to become an experienced boxing trainer, having trained professional boxers at all levels.
Honourable mention: Tony Borg, Gavin Rees, Steve Robinson, Paul Paveltish, Darren Wilson, Peter Harris
Best Commentator of the Year
Barry Jones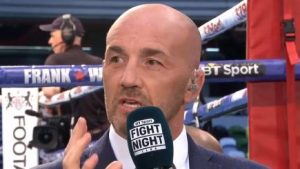 One of the UK's most popular commentators, the Ely man has covered big shows all over the World.
In Cardiffian Barry Jones (18-1-1) you have a former WBO World super featherweight champion, who has the knowledge of the sport both inside and out of the ring.
His relaxed, friendly style has brought praise from fans, due to his excellent work covering fights for BT Sport and Boxnation.
Honourable mention: Gary Lockett, Anthony Trow, John Hardy, Gareth Roberts, Enzo Maccarinelli
Best Podcast of the Year
BoxingWales – Dewi Powell and Ricky Wright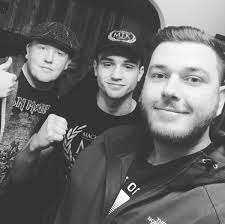 A Great show that brings interviews and news on the Welsh boxing scene. The co-hosts do an excellent job and you can find the shows on iTunes.
Referee of the Year
Chris Jones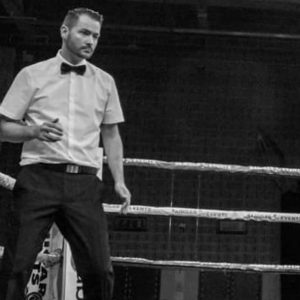 A professional boxing referee since 2017, Chris has had a big impact on the scene and been a regular on Welsh shows. 2018 saw him take charge of bouts in Neath, Newport and Cardiff. A rising star in the reffing World. Wales is blessed to have several quality referees.
Honourable mention: Reece Carter, Phil Edwards, Martin Williams
Timekeeper of the Year
Dave Walters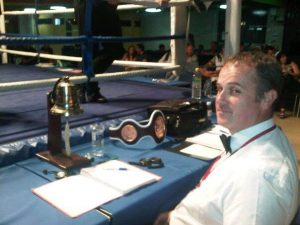 And Still…..the only man for the job. A mainstay through the year at the Welsh boxing shows.
MC of the Year
Ricky Wright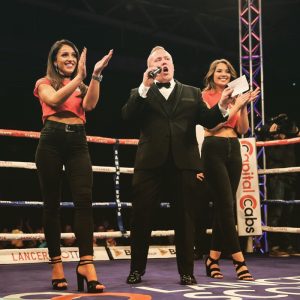 The product of the Rhondda has showcased his talents all over the UK and Europe. His distinctive voice and control will surely see him become the UK's No.1. He remains undefeated in this field.
Honourable mention: Jonathan Millard, Hywel Chaplin, David Owen, Matthew Jones, Paddy Cullen
Welsh Boxing historian of the Year
Gareth Jones
The author of The Boxers of Wales series. Gareth Jones has been a long-term writer for the World's oldest running boxing magazine – Boxing News. His latest book: The Boxers of Newport: The Gwent Valleys and Monmouthshire is out now and available on Amazon.
Honourable mention: Amanda Aubrey-Burden, Sean Davies, Darin Dobson, Anne Whitlock
Boxing Writer of the Year
Gareth Jones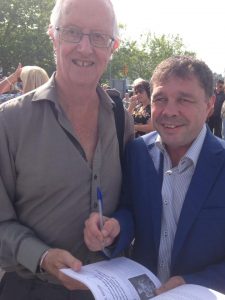 The vastly experienced writer is a constant presence at ringside. His articulate, and accurate, reports are published in the magazine Boxing News. He has lead the line for boxing writers in Wales. He has vast knowledge of the modern game and the history of boxing.
Honourable mention: Paul Daley, Dewi Powell, Mark H Davies, Rob Day, Michael Ward, Richard Lewis
KO of the Year
Jacob Robinson vs Jules Phillips
4-0 prospect Robinson won three contests in 2018. On 7th September, at Vale Sports Arena, Cardiff, he brutally knocked-out Jules Phillips in the fifth round. Jacob is a slick counterpuncher but in this contest produced a scary looking KO.
Honourable mention: Maredudd Thomas vs Shane Medlen, Alex Hughes vs Greg O'Neil, Jermaine Asare vs Przemyslaw Binienda, Joe Cordina vs Hakim Ben Ali
Road Warrior of the Year
Geraint Goodridge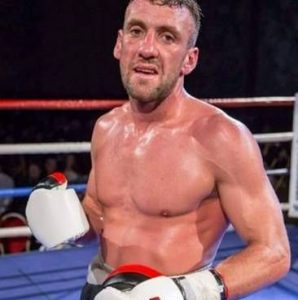 Port Talbot's Goodridge fought seven times in 2018, six in the opponents' backyard. He drew twice though was very hard done by not to get the decisions.
A dedicated professional who is always ready when the opportunity arises. A true Road Warrior that tested several upcoming prospects in 2018.
Honourable mention: Henry Janes, Sean Gorman
Photographer of the Year
Huw Fairclough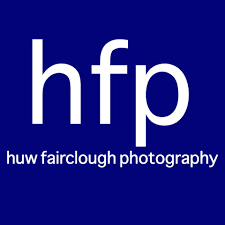 Huw was at many of the big boxing cards in Wales to capture the action. He captures the depth, of the action, with great style. He is a photographer who, also, provides content for US combat websites.
Honourable mention: Liam Hartery, Sarah Hopkins, Tom Hudson
Read more articles about: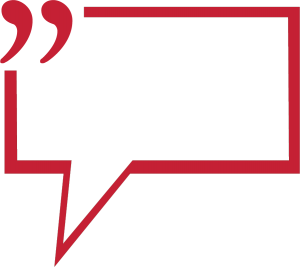 Click Here, If you wish to add a COMMENT to the above article or any of the Ringnews24 boxing articles.