George Kambosos Jr lashes out at Australian media for failing to cover his journey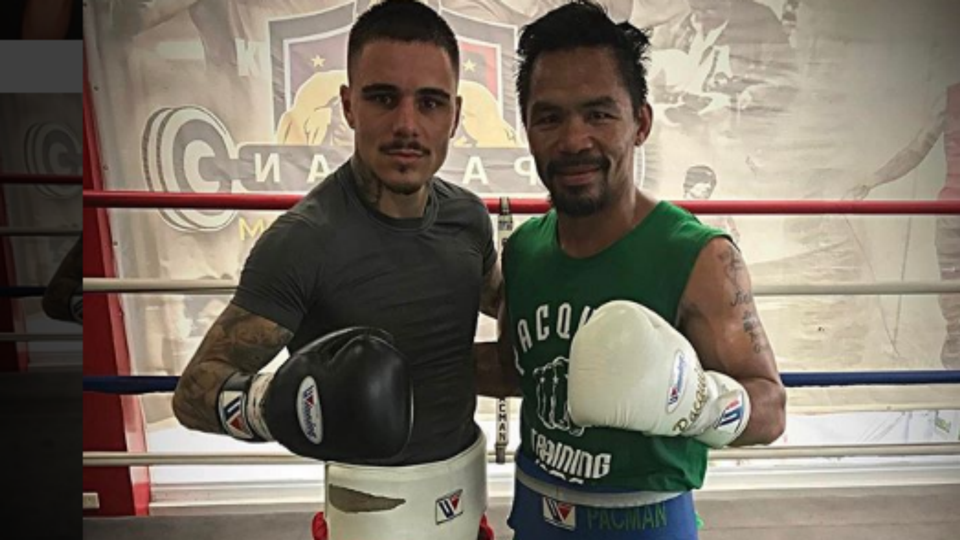 World-ranked lightweight George Kambosos Jr 16-0 (9) has slammed the media in his home country of Australia, saying they are more interested in covering former rugby league stars pulling on the gloves than genuine boxers who have participated in the sport from a young age.
The undefeated 25-year-old Sydneysider is signed to American promoter Lou DiBella and is a regular training partner of Manny Pacquiao.
"You've got guys like myself at the MGM Grand, sparring alongside Manny Pacquiao, an all-time great – but not much news media outlets covered it," the WBO number nine and IBF number 11 rated lightweight contender said to Sporting News.
"There's a few that did, but why don't they give a local guy like myself a go? A guy who has done it all himself and doesn't come from a background of football, and made it all the way to Vegas.
"Where's my media outlets?"
Kambosos made the comments ahead of this weekend's heavyweight fight between former National Rugby League (NRL) bad boy John Hopoate and Cronulla Sharks captain Paul Gallen.
"NRL supporters might want to see it, but true boxing fans don't want to see that shit," he said.
"I'm not bagging Gallen – I know Gallen, he's a great guy – but we've got guys like myself and a few others who have worked hard for years and have finally cracked the US.
"Where's our media?"
While the undercard is stacked with some of the best up-and-coming talent in Australia, including Tim Tszyu, Mateo Tapia, Ben Savva, Rocky Jerkic and Darragh Foley, Kambosos believes the NRL element of the card will suck all of the oxygen out of any discussion about these fighters and their world title ambitions.
"At the end of the day people are there to tune into the footy players," he continued. "I know for a fact the purses between the NRL guys and the fighters who've been busting their arses for 10 years to have a crack – I know there's a huge difference.
"I've done it in the past as a young kid, but I'd never do it now. It's an embarrassment to Australian boxing.
"I promise when I win that world title, I'll bring it back to Australia and defend it against some top quality fighters – some real fighters – and put on some real fights.
"That's what the fans deserve and that's what they've been lacking – quality boxing."