Jarrell Miller provides hilarious response to Tyson Fury's claim he dropped him seven times in sparring eight years ago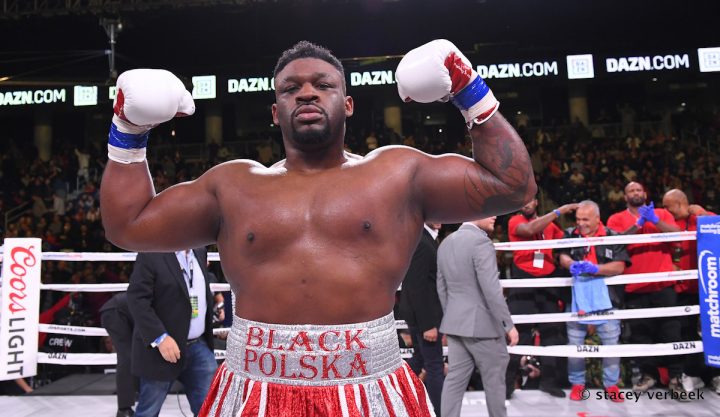 Heavyweight contender Jarrell 'Big Baby' Miller 23-0-1 (20) has lashed out at claims from Tyson Fury 27-0-1 (19) this week that he was dropped seven times in sparring and "sent him packing" when the big Brit brought him into camp in 2011.
The American loaded up on the media for reporting the claim, which he said was patently false.
"I heard Fury humped a donkey seven times," Miller told a group of reporters while on a press tour to promote his June 1 showdown with WBA, IBF and WBO heavyweight champion Anthony Joshua at New York's famed Madison Square Garden.
"Do you believe that? You don't believe that? Why not? I just told you, I'm about to put it in the media; I've seen Fury hump a donkey seven times.
"The thing about media is they all suck up too much dumb s*** instead of putting out the right crap.
"Everybody's looking for clout now because me and AJ signed a fight contract, everybody's trying to get in on it."
Despite his comments, Miller insisted he still gets along well with Fury.
"Me and Tyson's cool, I can show you Instagram messages and text messages from me and Tyson over the years," Miller continued.
"I've always said it, out of every heavyweight other than me and Adam Kownacki, I'm a Tyson Fury fan. Because he's real, he wears his heart on his sleeve, he's overcome certain things in his life.
"I couldn't give two s***s about Tyson Fury and what he's doing right now, I'm focussed on AJ."
Earlier this week Fury claimed Miller couldn't hang with him when the pair locked horns in sparring eight years ago. Miller would have been just two fights into his pro career at the time.
"I was back home in Morecambe and I needed a sparring partner, the first person that sprang to mind was Jarrell Miller, I thought he'll be good sparring for me," Fury said to talkSPORT.
"Obviously I wasn't a world champion at the time, he came over to Morecambe and we sparred at a local gym.
"I'm not going to go into too much detail, but I hired him for two weeks sparring, I ended up sending him back home after one day sparring.
"I put him down seven times in the first spar and I sent him home packing back to the USA."