Tyson Fury speaks on Joshua-Miller fight, says he will give Dillian Whyte a shot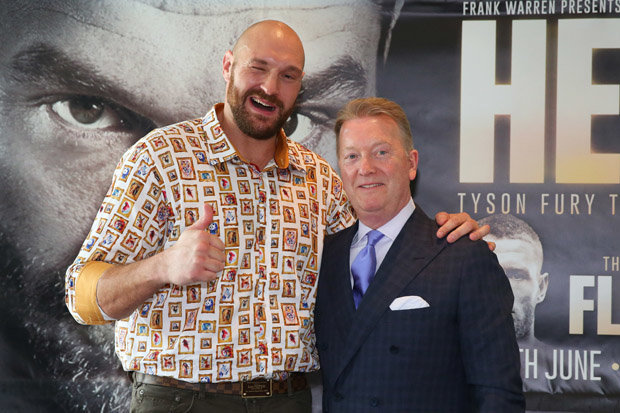 Tyson Fury has given his opinion on the upcoming heavyweight title fight between Anthony Joshua and Jarrell Miller, scheduled to take place at Madison Square Garden in New York on June 1.
"I think it is an entertaining fight between two dossers really," Fury told iFL TV.
"Yeah, it will be good for a giggle won't it? Two low-level bums fighting it out on that stage, that level, with 12,000 people watching.
"It should be good. We all need a bit of bill-filling don't we, not everyone can top the bills in LA!"
Fury is coming off a controversial draw against WBC champion Deontay Wilder in December, a fight that launched him back into world title contention.
That performance reignited talk of a Joshua-Fury fight, but Fury's promoter Frank Warren was dissatisfied with the terms offer by Joshua's promoter Eddie Hearn.
Fury isn't the first heavyweight to complain of being lowballed by Hearn. Dillian Whyte, who beat Joshua in the amateurs before losing to him in the pros early in his career, has spoken openly about feeling cheated by the offer Hearn table for their rematch, despite Hearn also being his promoter.
Fury sided with Whyte for the Joshua fight not happening.
"I blame Eddie Hearn for the fights not happening to be honest, it's not Dillian," said Fury.
"Dillian wants to fight anybody. He is the most improved fighter over the last two years. I've got to say, congratulations.
"He deserves a world title shot for sure and when I beat Wilder in my next fight, I will give you the shot no problem.
"I'm not a s********, I am a man of my word.
"If I beat Wilder, when I beat Wilder in my next fight, you can have it next. Because AJ ain't going to fight you because he is a s*******.
"And if would have fought you, he would have offered proper money to fight and you would have fought. But he ain't going to offer you the money because he doesn't want to fight."