Is Deontay Wilder Riddick Bowe 2.0?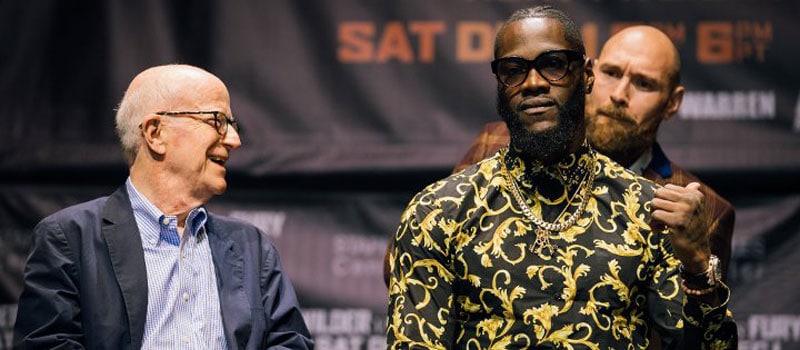 A lot of us remember that moment back in December, 1992. The sight of former undisputed heavyweight champion, Riddick Bowe disposing of his WBC belt in a rubbish bin in order to avoid facing Lennox Lewis for that title. And while Deontay Wilder has done no such similar thing, turning down an offer of $100,000,000 offered by Eddie Hearn and DAZN should be considered equal in terms of magnitude.
The current American heavyweight champion spoke out about his decision to Behind The Gloves.
"I am the monster, I hold all the cards, I am the king in the division. All these guys have to come and see me. The sooner they realise that, the better and smoother things will flow. I am the man in this division, and I just took hold of my career. I'd rather bet on myself than leave it in the hands of anybody else. I love being free, I love being able to be my own boss. I'm my own boss, these other guys ain't there own boss. I've always been my own boss and I still am to this day!"
Except Wilder is not really his own man! Shelly Finkel is still in the role of manager, as is Al Haymon. And Lou Dibella is also in the picture, often reported to still be his promoter. I do not know whether Wilder is suffering from delusions of grandeur, but it definitely comes across as if he thinks he is the main face of heavyweight boxing.
It really is that incredulous.
I personally keep in contact with someone who was once a sparring partner to both Frank Bruno and Lennox Lewis. And when he discovered the decision that Deontay Wilder made in regards to turning down the $100,000,000 offer he said he was grateful just being paid £100 a day to get in that ring! That was back when the attitudes of those most important in the sport were still in check when it came to discussing what was financially reasonable in terms of a boxer's legitimate worth.
It puts the WBC champion's attitude in a certain perspective. As a boxer who struggles to sell tickets, has limited exposure and only one belt in comparison to his overseas competitor, Anthony Joshua, you would think he would have the common sense and the drive to accept the offer.
In fairness, who knows what contracts have been signed and what they regard. You should be able to recall Eddie Hearn appealing for any boxers without contracts and promotional ties to come forward and sign up with DAZN when the platform was just launched. So, it's important to give Wilder the benefit of the doubt and be open minded to the possibility that he already has something in ink with the likes of DiBella or Finkel. But given the quote above, it does not suggest so.
So, where does Wilder go from here? And what is his future looking like at present?
Well, first of all he needs to overcome Dominic Breazeale which has been said to take place on May 18th. And then what? Even Joshua is struggling for opponents to fight at this point. Referring back to Riddick Bowe, shortly after he allowed himself to be free of being the holder of all the major championships he was confined to fighting the likes of Jessie Ferguson and Buster Mathis Jr. A rematch with Evander Holyfield in 1993 put him briefly in the spotlight again, a fight which he lost. He never really commanded attention until his rubber match with Holyfield another two years later. And then there were the Andrew Golota fights. But let's be honest! It was the Pole's actions resorting to dirty tactics that caused one of the worst riots involving boxing in history! So, the presence of Bowe in that situation wasn't the central reason.
Ever since Bowe walked away from boxing in 1996 (let's forget those irrelevant three fights in 2004, 2005 and 2008) he has been heavily seen as a case of "what if." What if he had decided to tell his promoter, Rock Newman that he wanted to face Lennox Lewis and do what real champions do? What if he had fought some of the other stronger names in the division at the time?
Deontay's legacy and current standing is in peril right now. And it is a tragedy that he is oblivious to it! He did say a plan has been put in place that will surprise everybody. But who knows if that is just damage control. I would not bet against it. Right now, the focus is on the likes of Tyson Fury and Joshua. And for good reason. We have seen what they have accomplished and the risks they have taken to get where they are now.
Times are crucial for him. One day, Deontay Wilder may see himself left in the dust.