Oscar De La Hoya hits back at claims of rifts with Canelo Alvarez, Ryan Garcia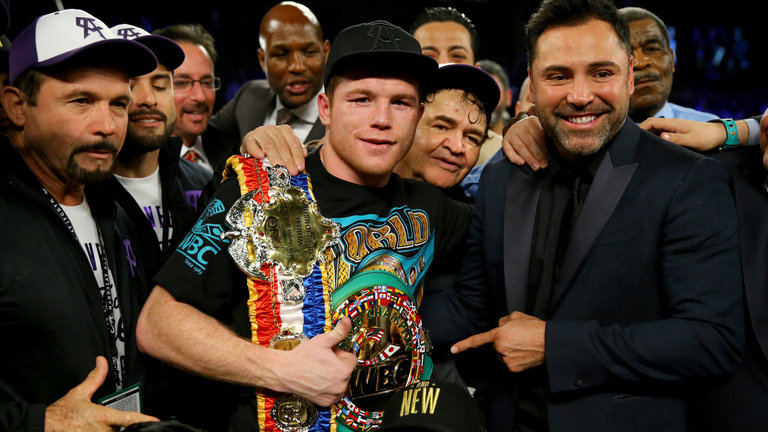 Promoter Oscar De La Hoya has hit back at rumours of a rift with his star middleweight Saul 'Canelo' Alvarez, blaming "sabotage" from his rivals.
The Golden Boy Promotions boss has also spoken out about online criticism he has received from undefeated lightweight Ryan 'Kingry' Garcia, who this week called to be released from his contract.
"With social media you tend to react in a certain way and you can't retract it obviously," De La Hoya said to the LA Times.
"There's a lot of voices in his ear. Being Canelo's promoter, I have a huge target on my back. I know that. People were trying to sabotage our dealings and our relationship but there were no surprises.
"We're still Golden Boy and at the end of the day we get what we want."
Garcia has been waging an ongoing battle with his promoter on Twitter, expressing his discontent as what he sees as not being moved along properly.
In an interesting twist, Alvarez has been retweeting many of Garcia's posts.
"That's fine," De La Hoya said. "I think it's great that he's supporting him. Canelo is mentoring Ryan just the way I mentored Canelo, and maybe one day Ryan can mentor the next guy. But he's not a world champion.
"Is he my best young fighter? No. Maybe next to Vergil Ortiz. Vergil Ortiz is the real deal. Ryan is in a very unique situation because of his social media following. The fact that he has so many followers is great, but it hasn't transcended over to boxing. It just hasn't. That's the bottom line."
Garcia, as expected, responded on social media.
"I don't even want to speak about this stuff anymore but Oscar call me forreal and stop going to the press! We haven't talked at all. I want the best fights, I'm 21 I have the drive to be even better and i will continue to get better and fight the best fighters," Garcia tweeted in response to the LA Times article.
"Oscar if you don't believe in my talents then you can release me elsewhere. Point blank period! If you do then come talk to me. Please no more press and public bashing."