Josh Warrington shocked at Kid Galahad's return to the rankings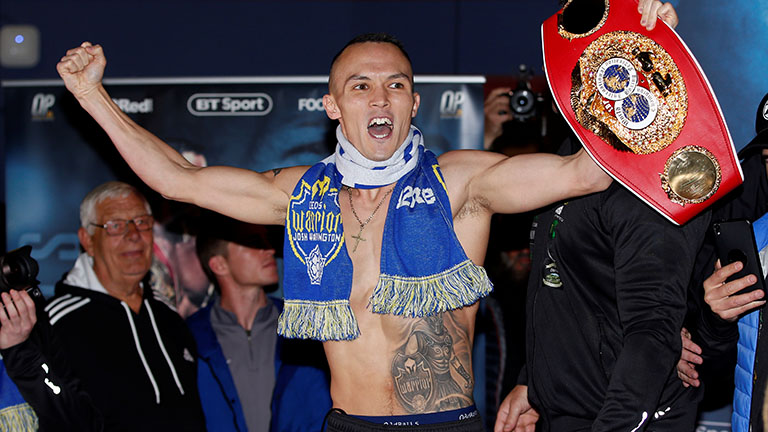 IBF featherweight champion Josh Warrington 29-0 (6) has expressed his surprise that old rival Kid Galahad is back in the IBF rankings.
Warrington defeated Galahad on points in Leeds in June, with the IBF ordering a final eliminator between Galahad and Claudio Marrero with purse bids due to take place this month.
"It's a bit of a joke," Warrington told Metro.co.uk. "I don't understand how he got moved down to No.8 in the rankings and is all of a sudden fighting an eliminator again.
"He must have complained. Really and truthfully, the guys in and around him aren't doing much. Why is he all of a sudden there again? He's not won the eliminator yet… we'll see what happens.
"But for me, I've been there and done it. I didn't win it in the style I wanted to win it, but I still won the fight.
"I've made my intentions clear. I only want meaningful fights and fight the other big names of the division."
Warrington returns to action in Leeds this Saturday when he takes on French veteran Sofiane Takoucht 35-3-1 (15).
"I've cleared out the domestic scene. If I could have things my way, I would be fighting a world champion," he said.
"Up until I was given the name, I'd not heard too much about him (Takoucht). I'd seen his name in the rankings.
"I've studied him a little bit and I've seen he's very tough. He's a pressure fighter and is a southpaw. He's only lost to high level opposition really.
"He's never been stopped and got a decent knockout ratio, better than mine actually. People turned down this fight, but he jumped at this opportunity.
"I imagine he'll be well up for it."
Takoucht said: "I feel good, I have been training hard, I am in the best condition and will show up on the night.
"Josh is a very good champion, but I need to make an impact in order to win. Winning will change my life and reputation in the boxing world. I believe in myself. I am ready to fight."