Ryan Garcia sees Francisco Fonseca fight as litmus test, wants Tank Davis next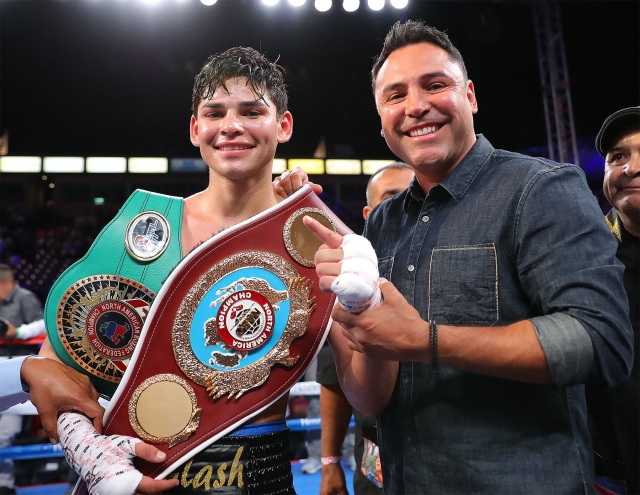 Lightweight contender Ryan 'Kingry' Garcia 19-0 (16) is looking forward to another step up in competition when he takes on battle-tested Francisco Fonseca 25-2-2 (19) at the Honda Center in Anaheim, California on Friday night.
And if the 21-year-old wins, he wants a shot at WBA 'regular' champion Gervonta 'Tank' Davis 23-0 (22) sooner rather than later.
"I feel like in order to be great you've got to do something great, and I can't be great if I'm always expected to win," Garcia said. "So if I beat Gervonta Davis, the fight I want, that nobody gives me a shot [to win], then I have a chance to be great.
"And another thing, they all thought I was going to lose my last fight [against Romero Duno] and I proved them all wrong. I read all the comments. 'Ryan has no shot, he's an Instagram boxer' and a lot of other stuff too."
Garcia sees Fonseca as a good litmus test for this stage of his career. The 25-year-old Nicaraguan twice challenged for the IBF 130-pound title, dropping a 12-round decision to Tevin Farmer in 2018 and going down to Davis in eight a year earlier.
"The reason I picked this one is because he fought Gervonta Davis and he fought Tevin Farmer," Garcia said. "The reason why it matters to me is because now I get to see how I rank up against a similar opponent. Let's see how he reacted and let me see if I react better. We got to see.
"I fight better when I'm in Vegas at the MGM Grand in the co-main event with everybody there. I fought great when I was at Madison Square Garden and everybody cheering my name. It was like something like that gets me amped up to do something special."