Eric Armit's Boxing Results; The Past Week in Action 9 August 2020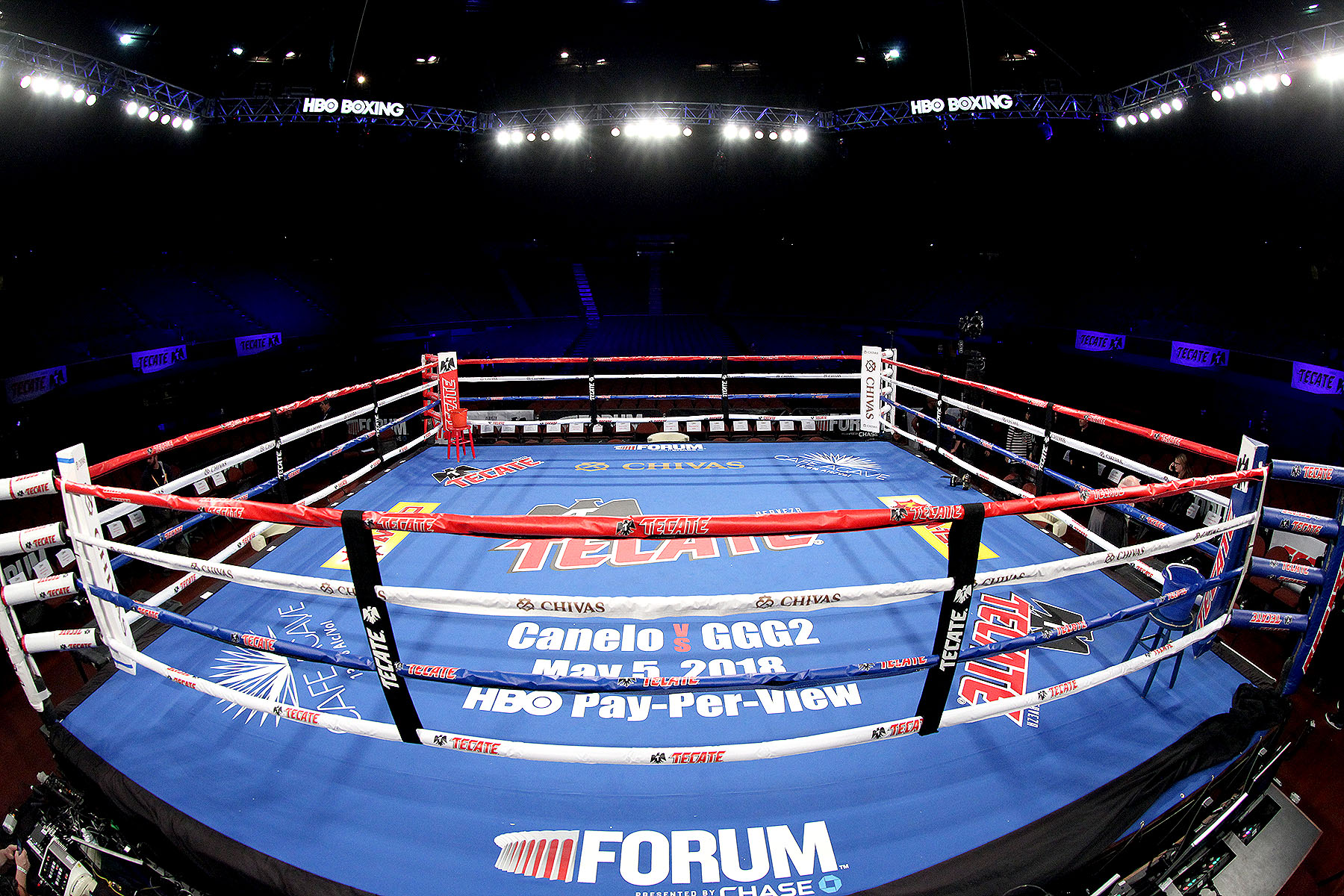 Highlights:
-Jamal James wins the vacant WBA interim title at welterweight by outpointing Thomas Dulorme
-Cuban David Morell collects the vacant WBA interim super middleweight title in only his third pro fight as he decisions Lennox Allen
-Chris Billam-Smith retains the Commonwealth cruiserweight title with stoppage of Nathan Thorley
World Title Fight Card
8 August 
Los Angeles, CA, USA: Welter: Jamal James (27-1) W PTS 12 Thomas Dulorme (25-4-1). Super Middle: David Morell (3-0) W PTS 12 Lennox Allen (22-1-1) Welter: Lucas Santamaria (11-1-1) W PTS 10 Mykal Fox (22-1).
James vs. Dulorme
James wins the vacant WBA interim title with unanimous decision over Dulorme in a low key fight lacking any real highlights.
Round 1
Comfortable first round for James. He was able to use his longer reach and his 4" height advantage to work with his jab on the outside mixing in some downward chopping rights to the head. Dulorme was not quick enough to cut off the ring so was largely ineffective.
Score: 10-9 James
Round 2
Dulorme had a better second round. He attacked strongly ducking under the jabs from James and connecting to the body. James managed to open some space and picked Dulorme off with jabs but Dulorme trapped James on the ropes and got through to the body again
Score 10-9 Dulorme                        TIED 19-19
Round 3
Good round for James. After some early pressure from Dulorme James took over driving Dulorme to the ropes and scoring with left hooks to the body and overhand rights.
Score: 10-9 James                        James 29-28
Round 4
A close round but just edged by Dulorme. There was no conviction behind the jabs from James and Dulorme was able and get through with body punches as James just circled the ring not throwing much at all.
Score: 10-9 Dulorme                        TIED 38-38
Round 5
James took this one. He kept moving and Dulorme just could not cut the ring off. James was able to score with quick jabs and then step in with a straight right followed by a left hook then use his long legs to step well out of range of any counters.
Score: 10-9 James                    James 48-47
Round 6
Dulorme made a strong start. James was not moving enough or punching enough and Dulorme got through with left hooks to the body. James suddenly came to life and bombarded Dulorme with a shower of punches and just did enough to take the points.
Score: 10-9 James                    James 58-56
Round 7
James jabbed and moved and then connected with occasional quick rights and with Dulorme unable to hunt James down it was a clear round for James which he punctuated with a series of chopping rights to the head before the bell.
Score: 10-9 James                    James 68-65
Round 8
Dulorme chased for three minutes without ever getting close to landing a solid punch. James was picking him off at distance and banging home single rights. He was frustrating Dulorme's attempts to fight inside by holding and turning his body away from Dulorme leaving him with no target.
Score: 10-9 James                    James 78-74
Round 9
Dulorme upped his pace and had some success at the start of the round but not a lot. James was circling, slinging jabs and clipping Dulorme with rights and just doing enough to steal the round. So far the fight was lacking any highlights and Dulorme showed no likelihood of changing the pattern.
Score: 10-9 James                    James 88-83
Round 10
A low scoring round but one in which Dulorme got close enough often enough to connect with some left hooks to the body and with James staying cautious and throwing little except one straight right that stopped Dulorme in his tracks Dulorme took the round.
Score: 10-9 Dulorme                    James 97-93
Round 11
Dulorme chased hard again in this one. He managed to get close and scored with left hooks but James was also popping him with jabs. A clash of heads saw a lump appear under Dulorme's left eye and he again landed some left hooks.
Score: 10-9 Dulorme                    James 106-103
Round 12
James easily took the last round. He moved quickly and constantly stabbing home jabs and quick straight rights with Dulorme never able to get close enough to do any useful work as he chased in vain.
Score: 10-9 James                    James 116-112
Official Scores: Judge Lou Moret 117-111 James, Judge Zachary Young 116-112 James, Judge Alejandro Rochin 116-113 James.
With his 6'2" height and long reach James will pose problems for anyone he fights but he is not in the same class as Terence Crawford, Errol Spence or Manny Pacquiao. He is not entertaining enough for anyone to want anyone to break down doors to get him one of those fights and the interim title has little real value. He fought his fight here and won well but Dulorme was disappointing. He never really posed a threat. He had lost a very close decision to No 1 Yordenis Ugas and drawn with Jessie Vargas but he never got to grips with the physical advantages enjoyed by James.
Morell vs. Allen
Cuban youngster Morell take a wide unanimous over Allen to win the vacant WBA interim title
Round 1
Morello was fired up taking the fight to Allen and firing flashy combinations. Allen connected with a couple of jabs but Morell was far quicker and unleashed a succession of punches as the round ended.
Score: 10-9 Morrell               
Round 2
Morell's hand speed was giving Allen problems but he worked well with his jab and blocked or dodged many of the punches from the young Cuban and knocked Morell off balance with a right hook even though the confident Morell was already finding time to showboat.
Score: 10-9 Allen                            TIED 19-19
Round 3
A dominating round for Morell. After some early jabbing from Allen Morell forced him to the ropes and piled on the punches to head and body from both hands. Allen fired back when he could catching Morell with a hard right hook and fought his way of the ropes before the bell.
Score: 10-9 Morell                    Morell 29-28
Round 4
An early flurry of punches from Morell was enough to give him this round. Apart from that he was again showboating and leaving himself open to counters with Allen not quick enough to take advantage of the openings.
Score: 10-9 Morell                    Morell 39-37
Round 5
Allen marched forward throughout the round but paid for it as Morell raked him with punches on the way in and either blocked or danced away from Allen's punches. Morell was landing plenty but never really made a dent in Allen.
Score: 10-9 Morell                    Morell 49-46
Round 6
Morell launched a wild attack at the start of this one. He pinned Allen against the ropes and kept him there belabouring him with punches. Allen saw out the storm but was rocked by four successive rights to the head later in the round.
Score: 10-9 Morell                    Morell 59-55
Round 7
Morell was putting his punches together well in the seventh but could not stop Allen coming forward. He was connecting with hooks and uppercuts from different angles with Allen walking through the punches but not doing much inside. With only two pro fights, both of which ended early and the rest of his experience being in amateur fights this was probably the first time Morell had been as far as seven rounds.
Score: 10-9 Morell                    Morell 69-64
Round 8
The pace dropped over these three minutes. Allen was still trying to force the fight but Morell was finding gaps with straight rights and the occasional uppercut and looked to be coasting.
Score: 10-9 Morell                    Morell 79-73
Round 9
Morell had slowed but he still connected with some choice uppercuts and with Allen not able to get inside to work it was Morell's round but he looked arm weary at times.
Score: 10-9 Morell                    Morell 89-82
Round 10
The spring had gone out of Morell's legs but Allen was more exhausted and the young Cuban worked Allen over on the ropes with hooks and uppercuts without ever really shaking Allen. Morell seems to have trouble with the word "break" and through the fight often hit on the break.
Score: 10-9 Morell                    Morell 99-91
Round 11
Allen landed a sharp left counter early in this round but then Morell dominated the action. He was scoring with overhand lefts and threading uppercuts throught Allen's guard and although Allen finished the round with a flourish it was not enough.
Score: 10-9 Morell                    Morell 109-100
Round 12
Allen looked to have more left. Morell was wild as he tried to close the fight out and was caught repeatedly by counters from Allen who finished the fight the stronger.
Score: 10-9 Allen                        Morell 118-110
Official Scores: Judge Lou Moret 120-108 Morell, Judge Rudy Barragan 119-110 Morell and Judge Steve Morrow 118-110 for Morell
The 22-year-old Cuban can claim to have equalled Vasyl Lomachenko and Saensak Muangsurin who both won a world title in their third professional fight. The big difference was that they both won genuine world titles and not the fabricated interim title. It shows how low the standing of the WBA is when no one is too surprised that they rated Morell No 3 in the world after winning two preliminary bouts against fighters who only just scrape into the top 100 in the division. With Callum Smith (real champion), Saul Alvarez (secondary champion) and Fedor Chudinov (Gold champion) they now have four world champions in the super middleweight division. Nevertheless Morell showed some classy skills and real power but his problem is that as he is a "world champion" he will not be able to drop down to take some useful learning fights. Allen was never really in this fight with a chance and it is ridiculous that he should get a title fight in only his third fight in the last five years.
Santamaria vs. Fox 
Santamaria scores important upset victory as he floors and outpoints world rated southpaw Fox. Santamaria was giving away nearly 8" inches against the 6'3 ½" Fox but made the perfect start as he sent Fox to the canvas in the first round. Fox recovered and it turned into a competitive scrap. Fox tried to fight at distance but just could not keep Santamaria out often enough or long enough to impose himself on the fight. Despite that it looked closer than the scores indicate but Santamaria was a clear winner. Scores 99-90, 97-92 and 96-93 for Santamaria. The 22-year-old winner from California is 9-0-1 in his last ten fights and was in his first ten round contest.  Fox, the WBA No 13, went 19-0 before losing to unbeaten Uzbek Shohjahon Ergashev but had worked his way back with three wins.
7 August 
Brentwood, England: Cruiser: Chris Billam- Smith (11-1) W TKO 2 Nathan Thorley (14-1). Super Welter: Anthony Fowler (13-1) W TKO 7 Adam Harper (9-2).
Billam-Smith vs. Thorley
Heavy-handed Billam-Smith halts Thorley in two rounds. After controlling the early action with strong jabs and straight rights with less than ten seconds to go in the round Billam-Smith connected with a perfectly timed right to the head. Thorley tried to move inside and hold but Billam-Smith managed to land a couple of lefts and Thorley dropped to one knee in a delayed action from that initial right. Thorley was up quickly and when the eight count ended with the round already over he returned to his corner. Billam-Smith put Thorley down early in the second with two clubbing rights to the head. Thorley was up at seven and then took the fight to Billam-Smith but walked onto a huge right counter that dropped him. Again he beat the count but swayed badly and the referee waived the fight over. Billam-Smith was making his first defence of the Commonwealth title. He has ten inside the distance wins with his only loss coming against unbeaten WBA No 3 Richard Riakporhe. Welshman Thorley didn't have the power to match Billam-Smith.
Fowler vs. Harper
Fowler much too good for Harper and halts him in seven rounds. Fowler was in control of this one from the opening bell. With his longer reach and faster hands he was able to score at distance and raked Harper with body punches inside. He was twice warned about low punches in the first round and had a point deducted when he went low again in the second. Harper was showing a cut over his left eye by the end of the round. Fowler floored Harper with a right cross in the fourth and only the bell saved Harper. The fifth and sixth were one-sided with Fowler pounding on Harper but he went low again late in the sixth and was given a final warning. Fowler continued to connect with heavy shots in the seventh and when a long right rocked Harper the referee had seen enough and stopped the fight. Fourth win in a row and tenth by KO/TKO for Fowler with his only loss coming on a split verdict against Elite class amateur Scott Fitzgerald. The 29-year-old former Commonwealth gold and World bronze medallist and 2016 Olympian has talent and power and should be fighting for the British title soon. English champion Harper brave but in over his head. His other loss was on points against Australian Michael Zerafa for the vacant Commonwealth title in 2018
Grosseto, Italy: Super Feather: Mario Alfano (15-1-1) W TKO 2 Nicola Cipolletta (14-10-2).  Alfano becomes national super feather champion for the second time as he floors and halts perennial challenger Cipolletta in the second round. With neither fighter being a puncher the fans were expecting ten rounds of tactical boxing. Cipolletta the more technical fighter began well boxing cleverly and scored well in the opening round. The roof fell in on him the second as Alfano exploded with a big right hook which had Cipolletta badly shaken and a left hook which sent Cipolletta staggering into the ropes. Alfano bombarded him with punches and Cipolletta fell sideways to the canvas. He somehow made it to his feet but was reeling and the referee rightly halted the contest. Alfano had won this title back in 2016 but was tonight coming off a loss against Lavisas Williams in Verona (NY) in June last year in an unsuccessful trip to the USA. This is only his fourth win by KO/TKO. Cipolletta, a former Italian featherweight champion, was having his fourth shot at the super featherweight title.
8 August 
Managua, Nicaragua: Light: Francisco Fonseca (26-3-2) W TKO 1Eusebio Osejo (30-25-3). Super Feather: Marcio Soza (20-6-2) W PTS 8 Franco Gutierrez (10-5)
Fonseca vs. Osejo
Fonseca finishes southpaw Osejo in two minutes. Fonesca used his longer reach to put veteran Osejo on the defensive. He threw a long right that landed low with the referee indicating for him to keep his punches up. Osejo was hurt by the punch and edged along the ropes into a corner. Fonseca followed and landed a couple of lefts to the body but Osejo was already on his way down in delayed action to the first right and he sat out the count. Fonseca is looking for another title shot. He was beaten by Gervonta Davis and Tevin Farmer in bouts for the IBF super feather title and in November last year drew with unbeaten Alex Dilmaghani for the vacant IBO belt. That's the good news. The bad news is that he was clobbered in just 80 seconds by Ryan Garcia in his last fight in February. Osejo now makes his money as a loser. His recent form reads just two wins in his fourteen fights spread across six different countries.
Soza vs. Gutierrez
No quarter asked or given in this one as Nicaraguans Soza and Gutierrez battered away at each other for eight rounds. The result could have gone either way but the judges gave it to the more experienced Soza on a majority verdict. From on the road to nowhere Soza has turned the corner with ten consecutive victories. Gutierrez looked as though he might do the same when he put together a run of six wins but he is now1-4 in his last 5.
Bucheon, South Korea: Welter: In Duk Seo (13-3-2) W TEC DEC 10 Jung Kyoung Lee (8-4-1). Seo wins the vacant WBA Asian title with technical decision over southpaw Lee. This was a savage scrap which swung one way and then the other. It was the aggression of Seo against the better skills of Lee and over the first four round Lee's higher work rate and better boxing had him in front on a couple of cards 40-37 and 39-37 with the third judge favouring Seo 39-37. Things changed over the middle rounds as Lee started to slow from the pace he had set and although the fifth and sixth were close Seo began to dominate the action. Leo just could not keep him out and was forced into a brawl spending much of the time trapped on the ropes. After eight rounds Seo had edged in front 78-74 and 77-76 on two cards and was even at 76-76 on the third. A clash of heads in the eighth had seen Lee cut over his right eye and although he fought hard he soaked up a lot of punishment in the ninth and tenth. The referee had the doctor examine the cut before the start of the eleventh and the doctor ruled the cut was too bad for Lee to continue. It was decided on the cards with Seo winning ion scores of 98-92, 97-94 and 96-94. Third time lucky for Seo who in his last two contests had suffered defeats in a shot at this same title and also for the vacant OPBF Silver title. Lee is a former OPBF super welter champion who had gone 5-1-1 before this loss.
Marbella, Spain: Super Feather: John Carter (13-0-1) W TKO 8 Ibon Larringa (13-4). Super Welter: Kerman Lejarraga (31-2) W PTS 10 Tyrone Nurse (37-7-2). Light: Samuel Molina (15-0) W TKO 2 Ruben Garcia (5-9-2).
Carter vs. Larrinaga
Big win for Carter as he stops felloe-Spaniard Larringa in eight to collect the vacant European Union title. Carter was a heavy favourite and he fought like it. He attacked strongly from the start and had Larringa under siege. Larringa began to find the target with his jab in the third until a hard right put him on the floor. He survived the round but was rocky again at the end of the fifth and lost a point in the sixth for holding. Rights from Carter had Larringa reeling in the eighth and with Larringa's team ready to throw in the towel the referee stopped the fight. Seventh consecutive win for Carter. He raises his total of inside the distance victories to seven but I think he will struggle against better class opposition. Larringa a poor level EU title challenger. He lost every round against Michael Conlan in May 2018 and was beaten in seven rounds by Carlos Ramos for the vacant Spanish feather title in November 2018.
Lejarraga vs. Nurse
Lejarraga takes wide unanimous decision over Nurse. Nurse took a few rounds to settle into any rhythm in this fight. Lejarraga took advantage of that to comfortably take the first three rounds. He took control of the centre of the ring jabbing well and scoring with some hefty rights. From the fourth Nurse, who had been looking to match Lejarraga in trading in the centre of the ring, changed his tactics and started to fight off the ropes letting Lejarraga come to him and countering the Spaniard. Nurse did better in those exchanges and his clever defensive work was frustrating Lejarraga's attacks. Lejarraga continued to force the fight and was picking up rounds but good work from Nurse was making it closer. Lejarraga's looked to be tiring and Nurse outscored Lejarraga in the eighth and the ninth was an even round. They both put in a big effort in the last with Lejarraga just having the edge. Scores 100-90 twice and 98-92 all for Lejarraga. "The Revolver" from Bilbao takes another step along the road to recovery with his third win in a row, but those two inside the distance losses to David Avanesyan still hangs over him like a cloud. Nurse, a former British super lightweight champion, has been a pro for twelve years. He went through a rough spell that saw him suffer four losses in a row but all of the results were close and debatable. He had worked his way back with two wins late last year and is a difficult opponent on his night.
Molina vs. Garcia
Molina gets a stoppage win but hugely controversial ending. Garcia outboxed Molina in the first but became overconfident and was showboating and mocking Molina in the second. He had his hands down inviting Molina to land a punch. Molina did. He nailed Garcia with a crunching right which landed on the bell-or after it as Garcia's team claimed. Garcia lurched around the ring before collapsing to the canvas in a corner propped up against the ropes. Even when he got up he was obviously in a daze and distressed and the referee decided he could not continue and stopped the fight. Garcia and his team protested loud and long but the verdict stood although there may be a protest.  Molina, 21, is Spanish champion and was national Under-19 champion in the amateurs. Despite his protests Garcia's record will now show he is 1-7 in his last eight contests.
Fight of the week (Significance): The WBA interim victories for both Jamal James and David Morell have added another dimension to the welterweight and super middleweight divisions
Fight of the week (Entertainment): Marcio Soza and Franco Gutierrez knocked lumps off each other in eight rounds of war in Managua with honourable mention to the In Duk Seo vs. Jung Kyoung Lee WBA Asian title fight.
Fighter of the week: David Morell for winning the interim title in only his third pro fight.
Punch of the week: The right hand counter from Chris Billam-Smith in the second round of his fight with Nathan Thorley. It was a beauty.
Upset of the week: Lucas Santamaria's win over Mykal Fox
Prospect watch: None I have not already spotted for you
Observations:
Eddie Hearn's back garden is becoming a busy fight camp.
I would love to hear how the WBA justify putting David Morell (only two prelim fights) above Daniel Jacobs, John Ryder, Anthony Dirrell, David Lemieux etc. in their ratings but I am not holding my breath.
A couple of clarifications. A) In California even if a fighter is on his feet when the fight is stopped it is registered as a KO but I will put it as a TKO where I know that has happened. B) If a fighter retires between rounds Box Rec list it as a retirement after the completed round and not before the next round and I will follow the same rule.
Read more articles about:
vbconnectorcommentcountobj:

a:2:{s:12:"commentCount";b:0;s:19:"commentCountCreated";i:1599318516;}