Brandon Rios: When I win this fight and I will put up my middle finger to all of you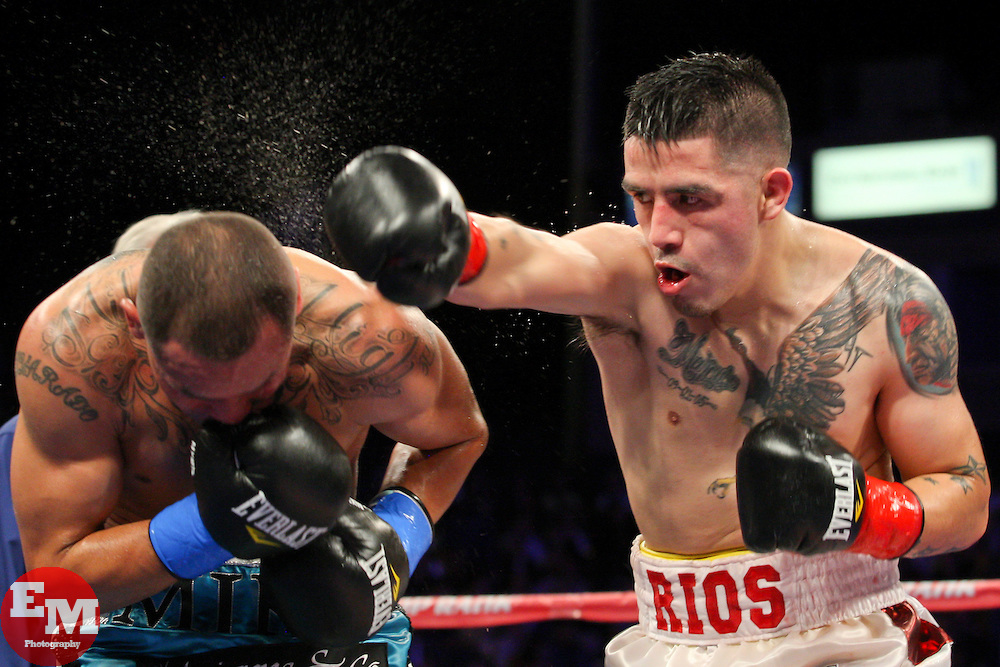 Two-division world champion Danny Garcia and former world champion Brandon Rios hosted a media workout in Las Vegas on Wednesday ahead of WBC Welterweight World Title Eliminator this Saturday, February 17 live on SHOWTIME from Mandalay Bay Events Center, and presented by Premier Boxing Champions.
In the co-main event, undefeated WBC Super Middleweight World Champion David Benavidez and top-rated contender Ronald Gavril meet in a rematch of their thrilling September 2017 bout in which Benavidez won the vacant title by split decision.
The SHOWTIME CHAMPIONSHIP BOXING telecast begins at 10 p.m. ET/7 p.m. PT with welterweight contenders Yordenis Ugas and Ray Robinson facing off in an IBF 147-pound title eliminator.
Tickets for the live event, which is promoted by Mayweather Promotions and TGB Promotions, are on sale now and are available at AXS.com.
BRANDON RIOS
"I'm ready. I've been training really hard and I'm focused and dedicated to the boxing game. In the past I was immature and just being a kid and being a dork and just going with heart and balls – that's what I was doing it with. But now I want to get back to the top and I know what it takes to get there.
"I don't care what the critics say because at the end of the day that's what they are, just critics. It's all good. I can tell you right now I'm in shape. I'm on weight already.
"Everyone knows the way I fight. Going all out is my style. I'll walk through brick walls to get the victory. Everyone will see on Saturday night the new and improved Bam Bam.
"Think about why I looked like [crap] after my last fight. I've been through wars after wars and wars in my previous fights, and that takes a toll on your body. It happens. And I realized it and I took a step back and I wasn't doing it right with dieting and training. I was doing it with heart and balls.
"Now I feel rejuvenated and fresh. So you will see the new and improved Brandon. I feel young and not war-shot, or whatever you guys want to call it. I want to go out there and prove everyone wrong. I'm going to prove every one of you wrong. There's going to be a smile on my face when I win this fight and I will put up my middle finger to all of you.
"Danny's a strong fighter and he has power in both hands. He's a great counter-puncher. One thing I like is he doesn't move or run, he likes to bang it out, and that suits my style better. But if he does run, we'll be ready for that too. I sparred with young guys, so I'm ready.
"Thanks to all of you guys for calling me out, and calling me a cherry, or whatever. I love it. It's all good. That's the chip on my shoulder I got. I'm not a cherry, I might be a wild berry, but I'm not a cherry."