Straightshooter Eddie Hearn tells Amir Khan the Phil Lo Greco fight is a must-win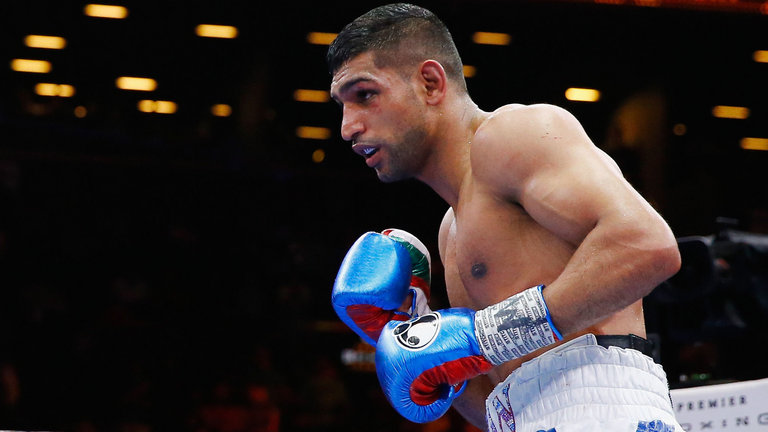 Matchroom Sport's Eddie Hearn doesn't mince his words.
"He must win," Hearn was quoted as saying by The Mirror when asked about his newly-signed boxer Amir Khan's upcoming fight with Phil Lo Greco of Canada. "The old Amir Khan would be a very, very strong favourite, but now he's just favourite because we just don't know how he is.
"The truth is he may not be the same fighter he was two years ago.
"I think he's fresh, but ­Saturday will tell us how fresh. He could be better than anyone or he could be a shot fighter."
The brutal but honest assessment comes just days out from Khan's must-win fight against Lo Greco 28-3 (15). A loss to the 33-year-old Canadian journeyman would all but end Khan's career as a top-flight fighter.
The Matchroom boss remains confident that he could do a deal that would see Khan 31-4 (19) get a big money fight with domestic rival Kell Brook 37-2 (26) later this year.
"My dream scenario would be for him to fight Kell Brook in December. You could do it in Manchester Arena. You could do it maybe at the Principality in Cardiff," Hearn said.
"I don't mind it in Manchester Arena. It's a fight that could do 40-, 50-, 60,000. But also in an arena like Manchester would be fine, it all depends on them. Kell will be there ­Saturday, it's a fight he wants and I think it's a fight Amir wants too."
That fight of course will never happen if Khan can't first get past Lo Greco, who he will be facing in front of a sold-out crowd of 9,000 people. It will be the first time the Bolton boxer has fought in England since his bout against Julio Diaz at Sheffield Arena in 2013. It will also be his fight bout under trainer Joe Goossen.
"I think Amir will be very nervous, especially because he's fighting in the UK. It's five years since he last fought here," said Hearn.
"He's had all the stuff going on in his personal life, hand surgery, his trainer falling ill and having to get a new one in Joe Goossen, so it's not been ideal. He has a lot of questions to answer."
The key to victory against Lo Greco, according to Hearn, is maintaining control of his emotions.
"The key thing for Khan is to maintain his discipline. Every time he has lost in the past, he hasn't controlled his emotions. He's stood and traded and the way Lo Greco has been winding him up, he wants to do a job on him. He needs to be careful of that," he said.