Oscar De Le Hoya announcement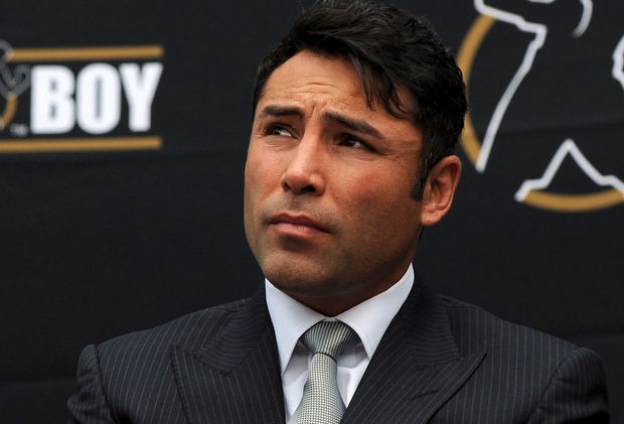 Boxing legend, businessman and philanthropist Oscar De La Hoya kicked off the SPORTELSummit 2018 as the keynote speaker May 16 in Miami Beach before an exclusive audience of decision makers from the international sports marketing and media industries that shape the business for tomorrow.
As the keynote for SPORTELSummit 2018,De La Hoya shared insights from his decades of fighting, from winning the Gold medal at the '92 Barcelona Summer Olympics to reaching the top of boxing's professional ranks as one of the best fighters in recent history. De La Hoya transitioned successfully from fighting upon retiring in 2009 to lead his company, Golden Boy Promotions, as one of boxing's best and most respected promoters around the world. De La Hoya has been at the forefront of moving the sport of boxing into the digital age, having launched Golden Boy Media and Entertainment in 2015, a new division of his company devoted to live streaming and delivering engaging, timely content on the sport to online audiences around the world.
"I've had the opportunity to be part of some of the biggest sporting events in recent history, whether as the athlete or promoter on the business side, and I'm pleased to share my experiences from those opportunities and how I've built a successful boxing promotions company with other decision makers in the sports business world at SPORTEL Summit 2018," said De La Hoya.
De La Hoya continued, "I created Golden Boy Media and Entertainment in response to consumers seeking more live boxing content online. Golden Boy Media and Entertainment was the first to record fights in virtual reality and broadcast live in virtual reality. Because of the changes and new ideas Golden Boy Media and Entertainment is bringing to the boxing world, we are beginning to see a shift in the sport. Other boxing promoters followed our lead and are implementing our ideas in their own ways.They say imitation is the sincerest form of flattery, and I couldn't agree more."
A superstar whose popularity transcends boxing, De La Hoya is known around the world not only as one of the best fighters of his era, but as an elite promoter, Grammy-nominated singer, active philanthropist and astute businessman. Over the course of his boxing career, he was an Olympic gold medalist, 10-time world champion in six divisions and among the biggest draws in the history of the sport. Since retiring from the ring in 2009, De La Hoya has focused his attention on building the company he founded, Golden Boy Promotions, into one of the most successful boxing promotion companies in the world. He runs Golden Boy Promotions as its Chairman and CEO from Los Angeles, representing some of the best fighters in the sport today include Canelo Alvarez, a three-time world champion in two weight classes and the current Pay Per View king of the sport in the US.
About SPORTELSummit
This two-day meeting, by invitation only, will showcase an illustrious selection of influential speakers and VIP guests addressing only the most current topics, providing participants with an open and unique platform to discuss these industry affaires. The confidential setting of the summit provides the luxury to really meet "Only The Elite", through special networking sessions and for building real business relations among real decision makers. No doubt, Miami Beach has become a hot spot for international business and sports events. The W South Beach venue offers us the perfect setting for hosting this ground-breaking summit for serious business.
About Golden Boy Promotions
Los Angeles-based Golden Boy Promotions was established in 2002 by 10-time world champion in six divisions Oscar De La Hoya, the first Hispanic to own a national boxing promotional company. Golden Boy Promotions is one of boxing's most active and respected promoters, presenting shows in packed venues around the world and has worked with networks such as HBO, HBO Latino, ESPN, Estrella TV, ESPN, TeleFutura, FOX Sports 1, FOX Deportes, Televisa and TV Azteca. The company has also promoted some of the top boxing events in the history of the sport including De La Hoya vs. Mayweather, Mayweather vs. Canelo, Canelo vs. Golovkin and other notable pay-per-view fights featuring fan-favorites Bernard "The Alien" Hopkins, Juan Manuel "Dinamita" Marquez, Miguel Cotto, Marco "Baby Faced Assassin" Antonio Barrera, Erik "El Terrible" Morales and Sugar Shane Mosley. For more information, visit www.goldenboypromotions.com.