Amir Khan: I can still be like Mayweather and Pacquiao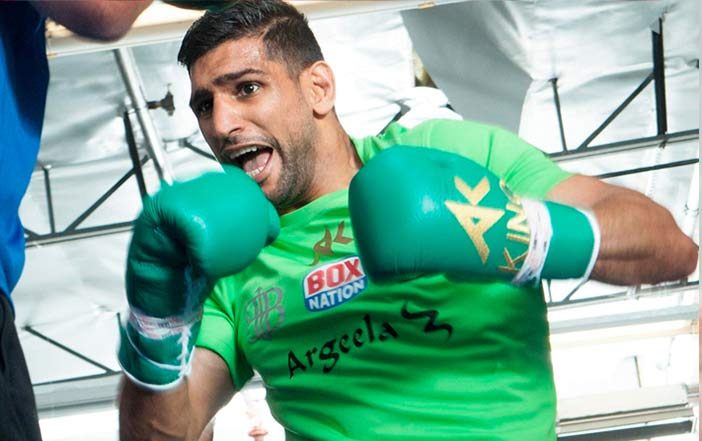 Amir Khan insists it isn't too late for him to become a boxing superstar.
Speaking on the Sky Sports documentary Amir Khan: Off Limits ahead of his welterweight fight against Canada's Phil Lo Greco 28-3 (15) this weekend, the 31-year-old Bolton boxer believes he has time on his side.
"Look at Manny Pacquiao, who is 38 and started having his big fights at 31," said Khan, 31-4 (19). "Look at Mayweather, he is 40 years old. I'm still a baby. I'm still young compared to those guys and what they've achieved and the same weight as me.
"People will say I have two years out and I know people say sparring is sparring, but I've felt better in sparring than I've ever felt before. I felt stronger, quicker, fitter."
Khan has been out of action for almost two years since being on the wrong end of a savage one-punch knockout in an ill-advised middleweight match-up against high profile Mexican banger Saul "Canelo" Alvarez in Las Vegas, Nevada. Some people on social media have joked that it took him those two years to wake up after the big right-hand punch.
The Englishman of Pakistani descent has had other setbacks in his career. His coach Virgil Hunter fell ill during training camp for this weekend's fight, forcing Khan to change trainers midway through his preparation.
Khan hired the experienced Joe Goossen to take over corner duties at the Echo Arena in Liverpool, England.
What Khan really covets is another world championship opportunity.
"A world title for me will mean something," said Khan, who held the IBF and WBA junior welterweight titles in 2011. "If I win another world title I can say, 'thank you very much, I've had a great time, a great career'."
"I'm not coming back because I need to, I'm coming back because I love the sport and I know I've got a bit left in me.
"I know I've got the energy to be a world champion again."