Part 1 | The beginning of Anthony Joshua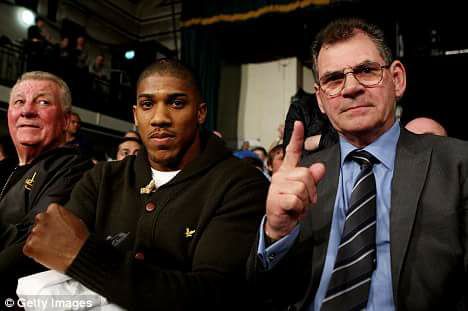 Anthony Joshua was born the 15th October 1989 in Watford, Hertfordshire, England.
Joshua loved sports from a young age in particular basketball and athletics. He currently holds the record for sprinting. In year nine he broke the 100m record with a time of 11.6 seconds.
Joshua's cousin, Ben Lleyemi, was an amateur boxer at Finchley ABC. Joshua followed suit and took up boxing for fitness. A young Joshua caught the eye of amateur trainer, John Oliver on day one. Speaking to Ringnews24.com, he added:
"What can I say? He walked in, I was training his cousin, Ben Lleyemi, who actually turned out to be ABA heavyweight champion. They won the top ABA title at the same time – Joshua obviously was a super-heavyweight.
"The day he walked in I knew he was going to be a champ – I knew it straight away. It's just one of those things any trainer looks for, a potential champ, world champion. He walked in and that was it I knew it from day one, it's just one of those things.
"I went back to my partner that night and she said what you laughing at I said "well what's happened tonight, is ones walked in, and he's going to be a world champion" I've said that many times.
"I've trained many, many champions over the years. My nephew is ABA champion too – It isn't just off the cuff. Dereck Chisora was another one, Darren Barker was another one, so all those have come through the club but Joshua's special, I got to say that."
Joshua learnt to box under the tutelage of many trainers and gained experience and knowledge by doing so:
"What made not only Joshua a good boxer and a good champion down the club at that time. It wasn't just me, Sean Murphy, Gary Foley, Paul Newton, John Shannon, my late brother Jimmy Oliver and George Philips all helped Joshua.
"I've always said to any boxer who comes in the gym "try and grab as much information off any trainer because we're all different, every boxer is different, every trainer is different" and every single trainer, it doesn't matter who they are. They've got information and knowledge that you can grasp and at some stage it will come back to you.
"I've always applied that to any boxer that I have trained. Try and grasp any information from any trainer because they're all knowledgeable. They just might say something along the lines and then during a contest or when the going gets tough and it just snaps into action – and that is really how he has become so successful, to be honest."
Joshua has a tremendous physique but he didn't walk into the gym like that, and through dedication and hard work he has grown as a man and a fighter:
"When he walked in the first day I was amazed how good his reactions were. I said "where have you been boxing?" he said "I haven't." I said, "you must have been somewhere." He said, "not really, I've been playing around a couple of times but I've only come down here to get fit".  I said, "you must have done something." He said, "I've done athletics, sprinting and basketball".
"Obviously he's done that, he's naturally fast on his feet. I think he still holds the record for the under 16's 100m sprint – that's how fast he is. He hasn't had to show it yet. To be honest he hasn't had the opposition to do it. It's just one of those things. It's a natural talent. We haven't seen the best of Anthony Joshua by a long way."
Part 2 Coming Soon!
Links:
Part 1 | Part 1 | The beginning of Anthony Joshua
Part 2 | The determination of Anthony Joshua and how he smashed his trainers hand into 100 pieces
Part 3 | Anthony Joshua resembles Cassius Clay
Part 4 | Unavailable
Part 5 | Joshua has yet to be tested; Joshua puts Fury in his place
Part 6 | Is Anthony Joshua ready for Klitschko?
Part 7 | COMING SOON