Amir Khan set for ring return; A look at potential opponents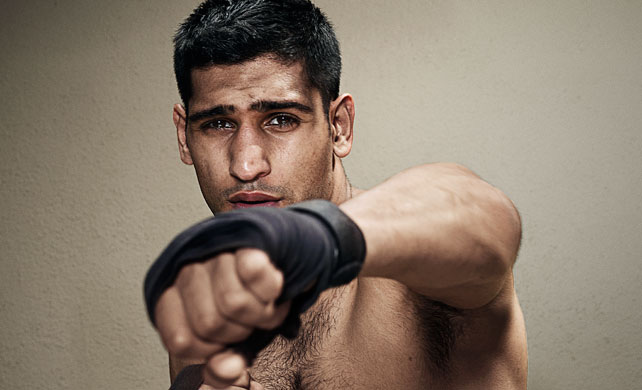 Khan has caused quite the stir recently with boxing fans with his appearance on reality the British tv show 'I'm a Celebrity get me out of here' rather than training in the gym for his return to the ring after more than a year out. He last fought Saul Alvarez at Middleweight requiring Khan to move up two weight divisions and a lot of people had Khan leading the first 4 rounds even the judge's scorecards but was ultimately brutally KO'd in the 6th round. Now 31 years old, what can we expect from the Bolton born boxer?
Given that he is going to be coming back off from a defeat, it's only logical to look back to his previous defeat back in 2012 to non-other than Danny Garcia, however, it was just the 5 months difference before we saw him back in the ring when he took on and beat Carlos Molina, taking him out in the 10th round. It's a no-brainer that we won't be seeing 'King Khan' rushing into another Canelo level fight but will we ever see Khan fight at that level again? Here are a few potential opponents that we could be seeing Amir clash with in the future.
Manny Pacquiao? Jeff Horn? It isn't as farfetched as it seems for these to be lined up for future bouts given Khan and Manny's history, having previously agreeing terms between the two in the past but unfortunately, nothing went further than a date which was eventually put on hold with it not being fully clear if talks are still ongoing. Khan recently cheekily threw shade at both Horn and Manny claiming Pacquiao v Horn was made to duck a fight with him and that even in his inactive state could take out Jeff Horn. Big fighting talk from the man. Footage of Khan and Manny sparing back in 2008 has previously been released and it seemed to be a very competitive affair between the two and should agreements be made, it would make a good show and as for Horn, should Khan get into the position to challenge the Australian, I trust Amir to hold his weight and prove his worth.
Is Kell Brook still an option? Talk about this all British super-fight has been ongoing for years and is now in more doubt than ever considering the little to no progress made to this point but if there was one positive to point out, it's that Brook has now got a comeback scheduled next year which has shushed the talk of whether we'd even see Brook back at all after two heavy stoppage defeats on the bounce. Amir Khan v Kell Brook would still be massive and one thing we do know is money talks, I believe they will both come running when the time is right.
It has been reported that Floyd Mayweather may be considering a 51st fight but has strictly ruled out Khan as a potential opponent so that one is a complete no go, even with Amir seemingly keen to fight the American. Floyd had some strong words for Khan, however, suggesting he should 'stick to TV' and needs to 'get real'. Khan has been snubbed by Mayweather a few times in the past despite proving to be a worthy opponent at times.
Other potential fights that could possibly be made could include the likes of Liam Smith who has publicly declared an interest in Khan or a rematch with Danny Garcia which would give Amir the opportunity to avenge his defeat. Liam Smith said last year that he'd love what he called a massive fight with Khan and may even be on Amir's radar. Khan has stated he is hopeful agreements with Garcia for a rematch could be made and Garcia has also claimed he'd be open to the fight but only if Khan was to regain his confidence.
Despite his critics and people on his back slating his every move, I think everyone can agree we'd like to Khan return to the ring and we should all be behind the man in doing so. Wherever his path may take him, it promises to be entertaining.