Manny Pacquiao calls time on Top Rank deal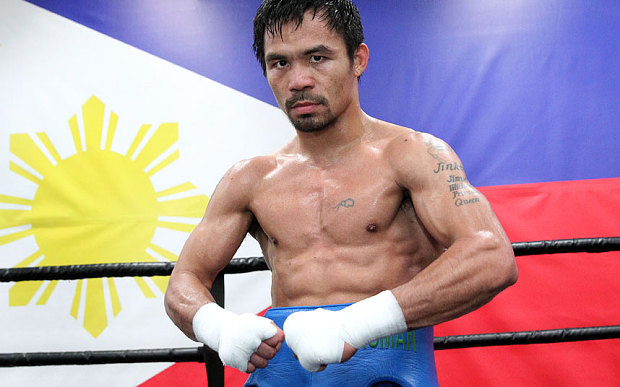 Eight-division world champion Manny Pacquiao is not legally bound to work with his longtime promoter Top Rank, according to reports out of the Philippines.
In a column published at Philboxing.com with a byline by Aquiles Zonio – who doubles as Pacquiao's media officer – the 11-time world champion's lawyer Eldibrando Viernesto said that the last fight under the agreement with the Las Vegas-based promotional outfit was against Jeff Horn in Brisbane, Australia last July.
"I reviewed the contract and I found out that [Top Rank CEO] Bob Arum has no more say even in the rematch, should there be any, between Manny Pacquiao and Australian boxer Jeff Horn," said Viernesto.
Pacquiao had previously announced plans to face WBA welterweight champion Lucas Matthysse in Kuala Lumpur, Malaysia in June, a fight that would require the participation of Oscar De La Hoya's Golden Boy Promotions who promote the Argentinean gunslinger.
In his column Zonio has come out swinging against Arum, claiming the veteran promoter has undermined Pacquiao and sabotaged previous fight plans.
"You know, Arum had sabotaged two previous negotiations for the holding of Pacquiao fight outside the United States," he wrote in a column for Philboxing.com this week titled 'Arum morphs from promoter to saboteur'.
"The first one was the planned Pacquiao Dubai fight then the other was the fight supposed to be staged either in Macau or Hong Kong.
"In two separate occasions, Arum called up Pacquiao's financiers threatening to file a lawsuit if Top Rank is not included in the promotion. They cowed in fear resulting to the scrapping of the fight."
Zonio went on to claim that Arum is taking the same approach to the proposed Pacquiao-Matthysse fight in Malaysia.
"This time, Arum, for the third time, tried to sabotage the fight by calling up Pacquiao's Malaysian financial backers. No dice, old man. He was ignored," said Zonio.
The Dubai fight refers to the aborted bout between Pacquiao and British boxer Amir Khan that was supposed to happen last year but was nixed when the mysterious middle eastern millions that were apparently on offer to finance the bout turned out to be a mirage.
Meanwhile Pacquiao is adamant that the Matthysse fight will proceed as planned, stating that De La Hoya will fly to the Philippines early next month to formally announce the bout.
"De La Hoya called up asking me if we could reset the Manila launching after the Holy Week," Pacquiao was quoted as saying. "That's why it [Manila press conference) was moved to April 4."